X-Sight Overview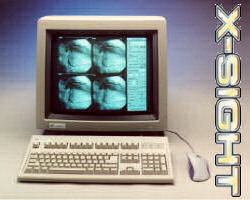 Designed specifically for use with all new and existing fluoroscopic and radiographic equipment, the X-SIGHT digital imaging product line delivers very high levels of performance and versatility. In addition, it offers all the well-known benefits of lower dose, lower operating cost due to less retakes and film savings, greater productivity, higher diagnostic efficacy, networking capability, etc.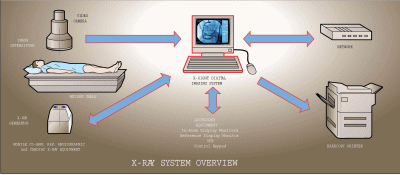 Its advanced architecture has the flexibility to address the cost-sensitiveness of mobile C-arm imaging, the many functional requirements of R/F and DSA, and the performance demands of cardiac biplane procedures. It offers a rich set of features for acquiring, processing, and displaying 12-bit images at resolutions up to 4000 x 4000 and at frame rates up to 120 frames per second. The product line provides a long-term upgrade path. With its intuitive graphical user interface, training time is kept to a minimum. Its advanced features include real-time subtraction, automatic MaxContrast for DSA, zoom, re-registration, and vascular/cardiac quantitative analysis. It also allows time-sharing between multiple rooms to enhance equipment utilization and further maximize the total return on investment.
IMAGING APPLICATIONS
UROLOGY
RADIOGRAPHY & FLUOROSCOPY (R&F)
PERIPHERAL ANGIOGRAPHY
DIGITAL SUBTRACTION ANGIOGRAPHY (DSA)
MOBILE C-ARM IMAGING
INTERVENTIONAL CARDIOLOGY & RADIOLOGY
CARDIAC CATHETERIZATION
SINGLE & BIPLANE CARDIAC ANGIOGRAPHY
MULTI-MODALITY IMAGING WORKSTATION
PRODUCT LINE HIGHLIGHTS
SUPERIOR IMAGE QUALITY
HIGH RESOLUTION - UP TO 4K x 4K x 12 BITS
SEAMLESS INTERFACE TO NEW AND EXISTING EQUIPMENT
MINIMAL TRAINING TIME WITH THE EASY-TO-USE MENU-BASED GRAPHICAL INTERFACE
MULTI-TASKING CAPABILITY FOR SIMULTANEOUS OPERATION OF PROCESSING, DISPLAY, HARDCOPY, & NETWORK TRANSFER FUNCTIONS
FLEXIBLE VIDEO SOURCE INTERFACE FOR MULTIPLE ANALOG/DIGITAL CAMERAS AND VCR
WIDE RANGE OF ENHANCEMENT OPTIONS
AFFORDABLE COST WITH UNCOMPROMISED QUALITY AND PERFORMANCE
BUILT-IN TESTABILITY
TIME-SHARING BETWEEN ROOMS TO ENHANCE EQUIPMENT UTILIZATION
EXTENSIVE REMOTELY ACCESSIBLE DIAGNOSTICS
See our complete line of X-Sight Digital Imaging System products.